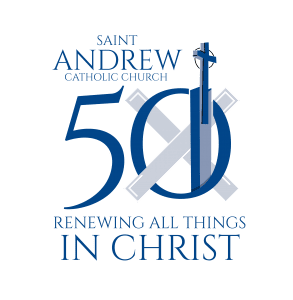 The Golden Jubilee Year officially began on Sunday, November 17, 2019 as we celebrated the feast of our heavenly patron, Saint Andrew.
Golden Remembrances:
Our Golden Jubilee is an opportunity to remember and reconnect with our history.  It is important that we remember how our parish started and those who were part of our growth over the past fifty years.  One goal of the Jubilee Year is to capture our history and to share it with others. To that end, I would like to hear from you ‒ a founding parishioner, a long-time parishioner, or a new parishioner ‒ regarding your experiences at our parish.  Here are just a few questions you might consider to get you started:
If you are a founding or long-time parishioner:
What was it like to be a founding member of a new parish in Coral Springs?
Do you remember Father Patrick Farrell, our founding pastor?  If so, how would you describe him to those who never had the chance to meet him?
Where did the first parishioners meet for Mass before any buildings were built on the parish property?  What was Coral Springs like back then and how has it changed – for the better or for the worse?
Do you remember taking part in the Mass in what is now the Social Hall?
What was it like to see the current church being built?
Did you attend the Dedication Mass of the new church building?  If so, what do you recall of that liturgy?
For any and all parishioners:
What recollections do you have of your first experience at Saint Andrew Parish?  What has kept you coming back as a Saint Andrew Parishioner?
Are there any special remembrances of the ministry of a priest or deacon of the parish who have served you or your family in an exemplary way?
What ministries or organizations of the parish have you participated in and why would you encourage others to do the same?
What would you say is the best attribute of our parish?
Please feel free to share with me your recollections and remembrances. A special e-mail address – GoldenJubilee@sacccs.org – has been established for this project.  Of course, you can always send a written note and that can be mailed to me or left at the parish offices.
As we celebrate the present and prepare for the future, it is also important that we know how we got here.  There are many wonderful stories that make up the history of Saint Andrew Parish.  -Msgr. Souckar
Golden Jubilee Steering Committee:
The Golden Jubilee Steering Committee met on Monday evening.  The members of the Committee are Jerry Pannel, Rory Wanliss, Rosana Lauria, Ann Herschbein, Jane Marques, Laura Frados, Maria Castagna, Jesse Guerra, Steve Sanabria, and Ernesto Angel.  I take this opportunity to thank these parishioners for their service to the parish.  Based on the theme of "Renewing all things in Christ", it was agreed that the following areas will be highlighted during the Golden Jubilee Year:  Evangelization, Spiritual Renewal and Faith Formation, Community Building, Engaging Youth and Young Adults, Envisioning Our Future.  Several specific suggestions were discussed in each of these areas.  The Committee will be meeting again on February 5th.  If you have suggestions for the Golden Jubilee Year or would like to help with special events, please contact me or a member of the Steering Committee.  – Msgr. Souckar

Feast of Saint Andrew:
The Golden Jubilee Year will officially begin on Sunday, November 17th as we celebrate the feast of our heavenly patron, Saint Andrew.  Archbishop John Clement Favalora, Archbishop Emeritus of Miami, will be the principle celebrant and homilist at the 11:30 a.m. Mass.
You are invited to read a reflection by Pope Benedict XVI about Saint Andrew by visiting the following:
http://www.vatican.va/content/benedict-xvi/en/audiences/2006/documents/hf_ben-xvi_aud_20060614.html
Tenth Annual Eucharistic Procession:
On Sunday, November 24th beginning at 3:00 p.m., we will have our Tenth Annual Eucharistic Procession.  Bishop Enrique Delgado, Auxiliary Bishop of Miami and pastor of Saint Katharine Drexel Parish in Weston, will lead the procession and offer a reflection during the period of Eucharistic Adoration.