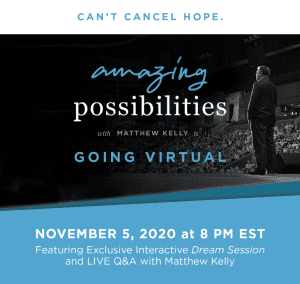 DATE: Matthew Kelly Event                   
For weeks, we've been hard at work doing everything possible to ensure Matthew Kelly's tour becomes a reality even in the time of COVID-19. We are excited to announce that your scheduled Amazing Possibilities event is still happening just going virtual! And, because we are going virtual, we are pleased to be able to include a time of live, interactive Q&A with Matthew, a live interactive Dream Session, a video from the Kelly children, prizes and more. And your event materials will be mailed right to your doorstep!
Thursday, November 5th, 2020
8:00pm EST
-Access to the event will be sent to you via email-
We recognize you were hoping to see Matthew Kelly in person, so we have worked hard to ensure that this experience is as incredible – perhaps even more so- than what you would have experienced if COVID-19 had not altered our world and lives. If you have any questions please check your email for further communication, visit our website or contact our Mission Team at (859) 980-7900.
With hope and anticipation,
The Dynamic Catholic Team