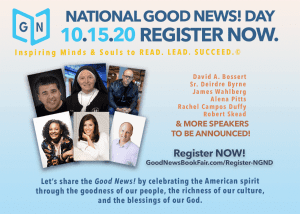 Now more than ever, we need good news and since our mission is to deliver good news to families around the country we have created the National Good News! Day to celebrate the American spirit through the goodness of our people, the richness of our culture, and the blessings of our God with stories that will inspire us to Read. Lead. Succeed.
"The news lately can be scary for many, especially, children and teens," said Liz Lantigua, founder and CEO of Good News! Book Fair. "We want to give them perspective through inspirational speakers who will be sharing their messages of opportunity, hope, 2nd chances and the resilience of our people and our country."
We will be sharing good news in a free 2-hour streaming program on October 15, from 11:00 AM to 1:00 PM EST.