Hasta Luego, Deacon Leo

Dear Parishioners of Saint Andrew:
For the past month and during the Christmas festivities we were blessed to have Deacon Leandro ("Leo") Siqueira with us once again. As you will recall, Deacon Leo is a seminarian studying for the priesthood for the Archdiocese of Miami who previously was in the parish during the summer. Deacon Leo has returned to the seminary for the final semester of his studies before ordination to the priesthood which is anticipated to take place on May 8, 2021 at the Cathedral of Saint Mary. Ordinarily, Deacon Leo would come back to the parish on weekends during this final semester, but due to the necessary precautions arising from the Coronavirus pandemic, the seminary is following a strict quarantine. It is still hoped that he will be able to return to the parish for Holy Week and Easter. Therefore, we don't bid farewell to Deacon Leo, but rather say "hasta luego".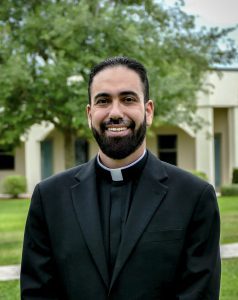 I ask you to join me in thanking Deacon Leo for his service at the parish and to continue to pray for him and his fellow seminarians, especially his deacon classmates. Saint Andrew Parish has been blessed to have several seminarians assigned to us as part of their formation and preparation for the priesthood. The vibrant and dynamic nature of Saint Andrew Parish and School is a suitable environment for a young man to experience first-hand the realities of parish life and to see up-close the life of a diocesan priest.
I also take this opportunity to encourage the boys and young men of our parish to consider the priesthood. Should you feel the Lord's call to follow him as a priest, I hope you will respond with a trusting and loving heart. Should you wish to speak privately with me or one of the other priests about the vocation to the priesthood, please do not hesitate to contact the parish office to schedule an appointment. Finally, I ask all of us to pray for an increase of priestly vocations, especially for service in the Archdiocese of Miami.
May the Lord continue to bless you and your families with His love!
Monsignor Michael A. Souckar